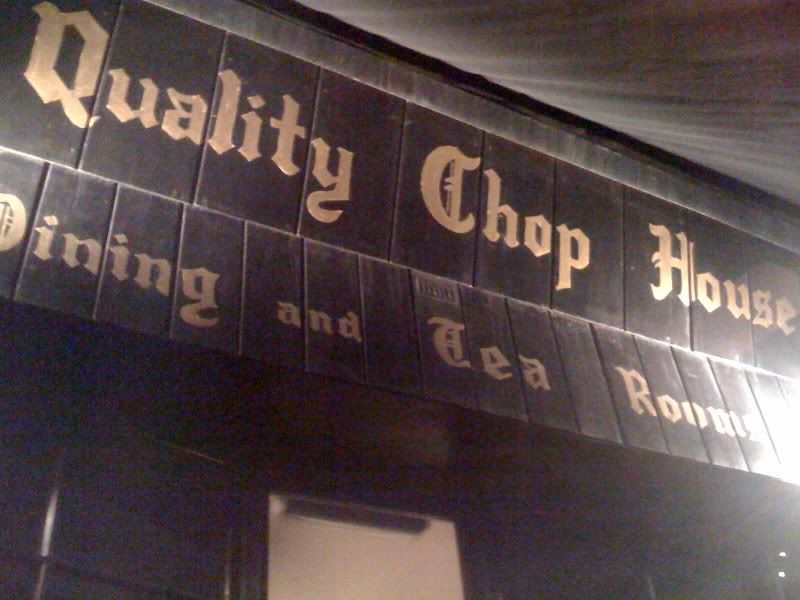 NOTE: The Quality Chop House has undergone major revamping since this review. Please refer to the updated Quality Chop House review.

I was chatting with a British colleague the other day when I asked for recommendation for any restaurant that serves good British food. Let me provide some context to this conversation. London, which is very much like Singapore in this aspect, is literally a metropolitan melting pot when it comes to offering cuisines from a variety of cultures, which of course means that Londoners are spoilt for choice when it comes to dining out. So much so that the British cuisine fades into background.

Anyway, my colleague looked stumped for awhile before suggesting The Quality Chop House. Incidentally, it is just across the road from Little Bay Restaurant. I called the restaurant that Friday afternoon and was able to make a reservation for dinner on the same evening.


If first impression counts, The Quality Chop House scored a ten on the onset. That was despite being located around half a kilometre from Farringdon Tube Station, which is apparently the nearest station. The exterior reminded me antique food shop that one would probably find at the turn of 19th century. Although it sat right next to the ever busy Farringdon Road, it nevertheless retained much of its charm.

Given its Victorian exterior, I was pleasantly surprised by its post war interior furnishings. There was ample seating capacity with its counter stools and perched tables and chairs. Those who fancy some privacy could opt for compartment tables instead.

Since we went to the restaurant looking for British food, what could be more appropriate than ordering just that? We ordered Eggs, Bacon Chop and Chips (£9.95), Battered Pollock (£12.95) and English Breakfast Tea for two (£4.50). How well such staples are done is usually a good indication of whether the rest of the menu would turn out.

We spent a good 45 minutes sipping our breakfast tea while waiting for our food to be served. Credit must be given to the two ever smiling female staff who were literally running around serving customers who were slowly filling up the cosy restaurant.




The Bacon Chop did not disappoint. It was done just right - not too salty or oily with a sliver of fats running through its length. Accompanying it are two eggs fused together with their yolks still runny. The chips are… well, chips.

What really made our day was the Battered Pollack. Though the portion could have been more generous, the batter was done just right leaving the flakes of fish fresh and tender on the inside. With mash peas and chips, that was easily one of the best fish and chips we have ever tasted in London.

Looking to tuck into British cuisine and yet tired of the bustle of the City? Look no further than The Quality Chop House.

Address: 94 Farringdon Road, London, EC1R 3EA
Tel: 0871 3328550 (Reservation highly recommended for dinners)
Nearest Tube station: Farringdon

Ratings (out of 5 *)
Price: below £20 pp
Service charge: 12%
Taste: ***
Service: ***
Ambience: ***
Suitable for: weekday dinner for two.



Pin It